This is my 100th Post on Less Beaten Paths.  It is Part 1 of a 3 Part Series on travel with my family over the last 30 years.  This Post will cover the "Early Years: 1980-1995."  Subsequent posts will be "1995-2005" and then the "Grandparent Years: 2005-present."
As a family man (5 children, 9 grandchildren), I want to dedicate this post to my travels with all of them since the 1980s.  These are fairly long posts with lots of family travel photos, so, feel free to skim through if interested, or pass onto another post in my blog.  But, I do also want to use this post to show how the creation of a wanderlust in each of them has opened their eyes and minds to the world around them.  Thirty years of family life and tens of thousands of miles traveled!! There are lots of Throwback photos in this one!! (Note that many of these have been scanned from original FILM photos — before the days of digital cameras)
All five of my children are 1980s children. My first was born in 1980 and my last in 1989.  From 1987 to 1991 we lived in Japan. That was quite an adventure. In 1993 we moved cross country from sunny Mesa, Arizona to the lush green horse country of Kentucky, where we have been ever since. In 2005 my three oldest daughters all got married in diverse parts of the country within 6 weeks of each other.  The first was in Tennessee, then, 5 weeks later we were on our way to Montana for the second and the next weekend back in Louisville for the third.  Throughout all of these events, I made sure we traveled and saw the sites.  That was so much more important to me than the Disneylands of the world.
Growing up I had the opportunity to travel as we moved to a number of places due to my fathers employment.  With that in mind, I had always had high hopes to provide the same opportunities to travel for my children.  So, even at a young age, we worked on opportunities, even if close by.  As a young couple in college, we didn't have much and we drove an old 1963 VW Bug.  Our first trip with our first daughter consisted of a trip from Flagstaff into the San Francisco Peaks wilderness, only about 30 miles away.
As our second daughter Marissa came along, I was working as a tour guide/bus driver while going to school at Northern Arizona University.  Flagstaff was really only a stone's throw away from the beautiful red rock cliffs of Sedona.  We made a number of trips there when the opportunity was afforded us…
By the end of 1982 we had three daughters and were staying busy with school.  We didn't have much time for travel.  We made trips to the Phoenix valley for visits with my wife's family and those mainly were straight down the freeway.  But, I kept busy traveling northern Arizona with tourists.  We would visit the Grand Canyon National Park, Sedona, Oak Creek Canyon, Montezuma Castle Nat'l Monument, Tuzigoot Nat'l Monument, the Navajo and Hopi Indian Reservations, Monument Valley and, on occasion, we would take some to Canyon de Chelly, the Petrified Forest, Glen Canyon Dam, Hoover Dam and Las Vegas.  I loved these trips and thrilled in giving domestics and foreigners a full fledged detailed overview of everything.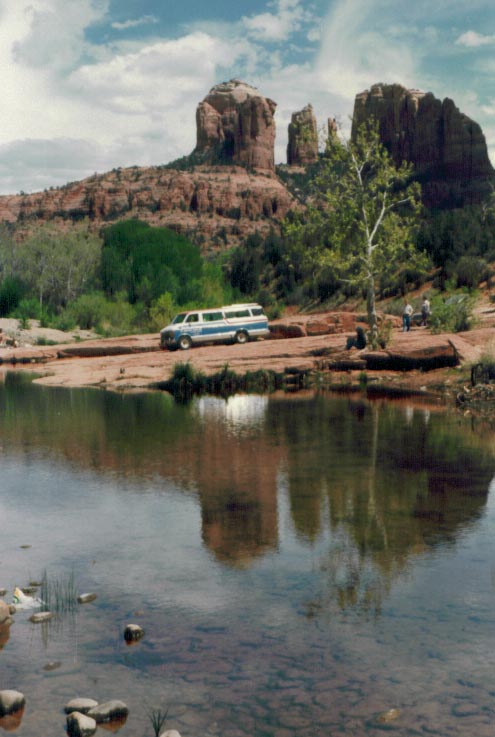 Our time in Flagstaff ended in 1984 and we moved on to Arizona State University for Masters work and eventually for some PhD work.  By the time 1987 rolled around our first son Seth came along, making 4 children.  As a result, very little travel occurred at that time except for a couple of family reunions at the Marine Institute on Catalina Island in California and Aspen Grove near Provo, Utah.  The heavy duty travel for my family really kicked off big time as we had an opportunity to participate in the Japan Exchange and Teaching Program (JET) in 1987.  My fluency in Japanese (due to a Mormon mission in the 1970s) helped me land a two year position as a Coordinator for International Relations (CIR) for Oita Prefecture, where I worked for the Governor's office (also see this link for Tourism in Oita).  Little did we know when we left for Japan in August 1987 that this would open the doors to so many travel opportunities and experiences for the kids, none of whom spoke a word of Japanese when we left.
I left a couple of weeks before the family did and poor Julianne had to travel to Japan with the four children.  It was the first flight for any of them and the first time Julianne had traveled to a foreign country (other than a trip to Canada and a couple of visits to Nogales, Mexico).  To make things worse, her plane out of San Francisco was delayed and they missed their connection in Seoul, South Korea, so they all stayed overnight in Seoul.  Once they did make it to Oita, we were some of the only foreigners there and truly the only foreign family.  As a result we were the recipients of a ton of attention.  We became the objects of a number of local television interviews, were invited to festivals and events as special guests and were also treated to travel all over Oita (which is just a bit larger than the state of Delaware).

View Larger Map – Oita, Japan (on the island of Kyushu)
Oita is one of seven Prefectures on the island of Kyushu, which is larger than Maryland but considerably smaller than West Virginia, but very similar to West Virginia in its remoteness and large mountains and hills, not to mention the large amount of countryside.  We spent a little over four years living and working in Oita.  The girls went to Japanese public schools and became totally immersed in the culture and language. Here are a few photos from our time and travels in Japan with details about the photos.
During our time in Oita each of the children had opportunities to be in TV commercials, department store advertising and other ads.  So, not only were they traveling, but they got to be involved in some other unique opportunities, especially as some of the only non-Japanese children in Oita Prefecture.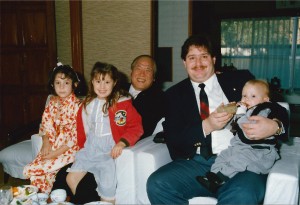 Like most places in Japan, there are rural areas and then there are industrial areas.  We had many special opportunities as a family to visit manufacturing facilities including a giant steel plant, the local newspaper to see how they printed in Japanese, a canon camera factory and a Toshiba Semiconductor plant.
After our four years in Japan, it was time to return home.  The children had all become fluent in Japanese and were becoming Japanese. We wanted to get back to America and the Japanese economy had begun to see an economic bubble in 1991, so it was the right time.  It was an amazing experience and opened their eyes to the world in so many ways.
So, we returned to Arizona and I commenced looking for work, eventually landing a position in Kentucky as a Japanese interpreter/translator.  After about 8 months, I went back and we moved the family to Kentucky.  This became the next great adventure for the family and I meticulously planned a good route.  Back in 1993 there was no internet, so my research was done via maps and travel guides.  We would travel from Mesa, AZ thru Flagstaff, AZ (visiting Sunset Crater National Monument, the Grand Canyon and Wupatki National Monument along the way).  We made our way northeast to the dinosaur tracks in Moenave, AZ, then to Monument Valley in Utah and Four Corners Navajo Park.  From there we continued eastward through Colorado, Kansas, Missouri, Illinois and eventually into Frankfort, Kentucky.  Following is the route for our family's first ever true cross country road trip (the first of many!!).  We departed on July 15, 1993 … Julianne's and my 14th Anniversary.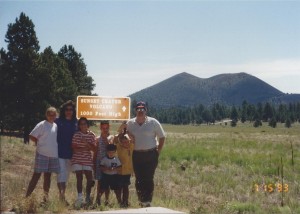 Our first stop on this trip was Sunset Crater National Monument and then following along the loop drive to Wupatki National Monument.  Sunset Crater is one of the best examples of a volcanic cinder cone in the United States.
AS you head east towards Tuba City off of US 89N, along the way you come to a sign that points north towards Moenave, on the Navajo Reservation (about 6 miles east on AZ Hwy 160).  You take that dirt road and just to the left a few hundred feet up the road is a large sandstone area covered in Dilophosaurus tracks. We stopped to check them out and then continued east to Monument Valley.
Of course, everyone recognizes Monument Valley from the movies, TV Commercials and Print ads.  It is one of those unforgettably beautiful natural desert scenes and a must stop for anyone visiting northern Arizona or Southern Utah.
Continuing east on US 160 and a bit north from Teec Nos Pos, Arizona you arrive at the Four Corners Tribal Park, the only place in the U.S. where four state corners meet.  Soon thereafter we began heading into the mountains with an overnight in Durango and then on to Pagosa Springs the next morning. From there we traveled up and up to the Continental Divide at Wolf Creek Pass – 10,857 feet – definitely one of the high points of this trip.
We continued through the mountains along US 160 through Walsenburg and then on to Lamar and then on US 50 into Dodge City for the night.  As we drove through Kansas I recalled that it was the only state that we could smell for miles.  The next morning we were off again to the SE corner of Kansas to visit the "Little House on the Prairie" near Independence, Kansas.  Of course, this was the title of the book by Laura Ingalls Wilder and was her second home after the family moved from Wisconsin.
Though we made other stops along the way, our next destination was specifically for the girls, who in the 1990s were into the "Precious Moments" figurines. though popular among collectors, they are not nearly as popular as they were in the 1990s.
In any case, we made our way into Carthage, Missouri, on the western end of the state, to visit the Precious Moments Chapel.  This was fun for the girls with big Precious Moments Statues, Stained Glass and other at work.  This was their first really "offbeat" travel site in terms of uniqueness.
From Carthage we continued on to Frankfort, Kentucky, driving through St. Louis, crossing over the mighty Mississippi and then a straight shot on I-64 through Louisville.  It was an amazing adventure for the kids as they got to see a good chunk of the United States.  But this was really only the FIRST of many adventures.
This first cross country trip with the family was very revealing.  We learned that the kids could manage on a long trip as long as we had a few stops along the way that were interesting and fun for them.  It helped them anticipate the next stop too.  We also found that they took interest in the history, the geography and even the novelty.  We had a living classroom on wheels.  This would prove very beneficial in our planning of subsequent trips, whether short or long.
Kentucky was new to all of us.  In fact, the Eastern U.S. was new to all of us.  The green, the colorful spring and fall seasons.  All made for a wonderful new opportunity for adventures, even close to home.  During the remainder of 1993 and a good part of 1994, we stayed close to home and explored nearby places.  We moved from Frankfort to Nicholasville on Christmas Eve 1993 and could enjoy living close to the larger city of Lexington and all of its amenities.   After getting settled again we had more opportunities to explore as the kids learned about the Civil War first hand, they got to see the massive Mammoth Cave and even enjoyed time in many of Kentucky's beautiful surroundings.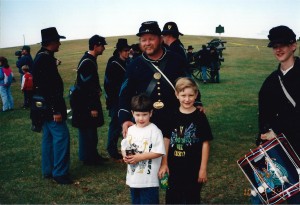 Traveling far away from home wasn't really on the agenda until mid 1995.  At that time we were the host of a French Exchange Student named Barbara Grandvoinet.  She was between the ages of Amaree and Marissa and went to school with them.  We had room for her and she stayed with us for six months.  So, it was the perfect time to plan a trip and get our "wanderlust" fulfillment in.  By this time the fledgling internet was getting popular.  We had an AOL account and I was able to do some research online.  I planned out a trip that would take us through West Virginia, Virginia, Maryland and back home through West Virginia.  It promised to be an exciting trip.  The following map gives a general course for us (though I don't really recall the entire course).
View Larger Map – Family trip August 1995
My goal for the trip was to make it memorable for the kids and to introduce them to journal writing.  I didn't force too hard, but I encouraged them to write in the notebooks that I prepared for them, to tell about the trips and the fun things they did.  Some did well…
Marissa took her journaling and photography seriously, even from the get go.  She has since become a professional photographer (see her photography site).
From the Mystery Hole tourist trap, we then went to the amazing New River Gorge and saw the huge arched bridge that spans the river.  the New River is one of the oldest rivers on the American Continent and the 3030 Arched Bridge that crosses over it is 876 feet above the river.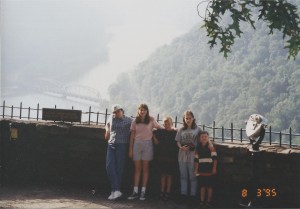 After an overnight stay at an old hotel near Fayetteville, we visited Lexington, VA and then were off on a drive through the scenic Shenandoah National Park in Virginia. We then stopped in Fredericksburg and visited some historical sites and the Hugh Mercer Apothecary Shoppe, which showed the kids many old ways of doing things.
From Fredericksburg it was on to the historic Jamestown Settlement. Due to time constraints we skipped Williamsburg, which I had visited a couple of years earlier.  But Jamestown was a nice living history center and the kids got to see how the Powhattan Indians lived, they got to climb aboard replicas of the ships that the settlers came on and more.  A couple of the kids we causing problems, so I had them "put in a pillory." The pillory was a device made of a wooden or metal framework erected on a post, with holes for securing the head and hands, formerly used for punishment by public humiliation and often further physical abuse, sometimes lethal. A stock only held the hands, a pillory included the head…just so the difference is made clear.
We then made our way to Norfolk and then to the Chesapeake Bay Bridge-Tunnel, an amazing structure to cross over/under Chesapeake Bay from the Norfolk area of Virginia to the Delmarva Peninsula.  After its completion in 1964 it was named one of the Seven Engineering Wonders of the Modern World.  The total length from Virginia to Delmarva is about 23 miles (17 miles from shore to shore).  There are actually two tunnels (Thimble Shoal – 5,552 feet and Chesapeake Channel – 5,237 feet) along the way, so you go down under and then back up over the water to man made islands and back under another tunnel.
Halfway across after going through the first tunnel, you come out on an island and there is a 625 foot long fishing pier and a souvenir shop.  We stopped there and got the shot above.  Afterward, we were back down the second tunnel and eventually came out on the Delmarva Peninsula, where we found an old crab house (really rustic indeed) and literally had a HUGE tray of crabs, crabcakes and other delectable types of seafood.  It was called Phillips Crab House in Ocean City.  We ate there and then stayed overnight in Ocean City.  Indeed, one of the "educational" pieces I have always tried to throw into our trips is eating things local to the area in local cafes and restaurants.  I wish I would have gotten some photos!!!
With the arrival in Ocean City, my four children had officially now been on both the West Coast (from previous trips to California and Catalina Island in the mid-1980s) and now the East Coast.  With this trip they had also pretty well traversed most of the United States by car (at least from Arizona to Maryland).
After an overnight stay in Ocean City, we traveled to Annapolis, MD and then to Silver Spring, MD, where my aunt lived.  We did make a quick stop at the Smithsonian Air and Space Museum in Washington D.C., and then traveled on to Silver Spring, where the huge and beautiful LDS (Mormon) Washington D.C. Temple is located (see photo above).   We also took a day trip down to Mt. Vernon, where George Washington's home was.
We then finished off by visiting the Exhibition Coal Mine in Beckley, West Virginia on the way home.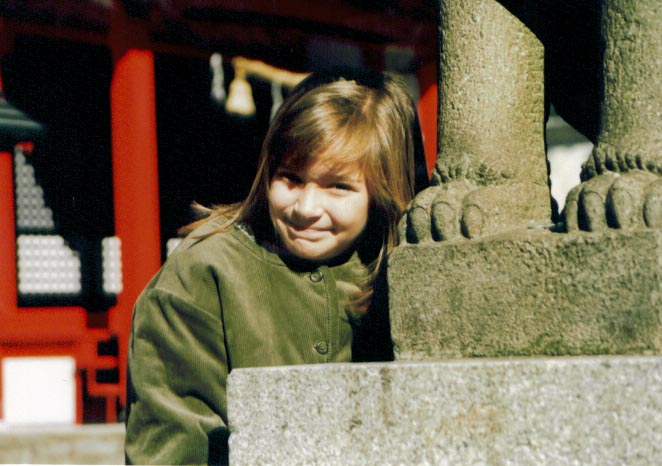 (1500)