On a trip to Kansas City back in November 2011, I returned via some back roads in south central Missouri.  My main destination of choice was Tightwad, Missouri.  This is an unincorporated town of about 65 or 70 people.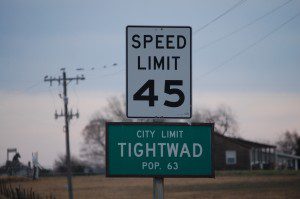 The village's unusual name is said to stem from an episode in which a store owner cheated a customer, who was a postman, by charging him an extra fifty cents for a better watermelon. Some sources claim the transaction involved a rooster rather than a watermelon.  However, there is really nothing definitive.  Nonetheless, the town is fun.
Perhaps the biggest point of excitement is the Tightwad Bank, a real bank.  According to its website, The bank was founded on September 5, 1900 as Reading State Bank, a Kansas chartered commercial bank. On March 27, 2008 the bank opened a full service branch in Tightwad, MO and changed its name to Tightwad Bank. Tightwad Bank is FDIC insured and is currently classified as "well capitalized" by the FDIC.  They even sell Tightwad Bank shirts and hats!! YOU, yes YOU…can even open an account and get checks that say Tightwad Bank.
The other place of interest in Tightwad is the Tightwad Cafe.  I actually stopped there for breakfast…couldn't resist!!
The food was awesome and they do NOT skimp on the servings as all….see what I had below:
Though the price is right and the food is great, I was told by the owner Carrie (see below) that they "do not take credit cards." When I asked her why, she said she "didn't want to pay the fees."
Of course, there is a Tightwad Volunteer Fire Department.  I wonder if they are "volunteer" because the town is too tight to pay them??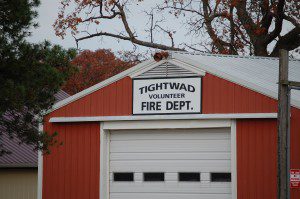 Tightwad, Missouri
(1184)