On June 2, 2013 I continued my trip westward from Lexington thru South Dakota and into Wyoming.  On this leg I started in Gillette, Wyoming and made my way to Rexburg with a trip through Yellowstone National Park.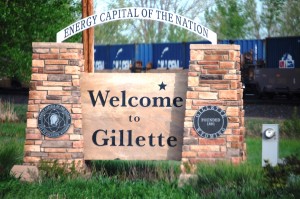 Gillette, Wyoming is the first large town in Wyoming on the western end of I-90.  It was incorporated in 1892 and is now called the "Energy Capital of the Nation" due to the high grade coal reserves as well as nearly 13,000 oil wells.
Downtown Gillette is not too large, but, along the main street there are a number of sculptures and a great wall mural.  The mural above was done by Gillette artist Harvey Jackson, who has murals throughout Wyoming including a giant mural on the side of L &H Industrial in Gillette called "Campbell County Industrial Mural", which is twice as large as Mt. Rushmore.
Gillette has a Mayor's Art Council which features an "Avenue of the Arts" annually.  They have a number of pieces made and display them on the Main Street through town and then auction them.  Here are a few that I took while driving through town.
This Abraham Lincoln bronze work by Gary Lee Price is a duplicate of a piece in Jackson, Wyoming, which I visited a couple of months ago.
Pokey Park is a sculptor from Georgia.  She has the two turtles on display.
"Belle" is a work by Jeannine Young of Salt Lake City.
Gillette is also home to the "Rockpile Museum." This Campbell County Museum focuses on general, regional, and local history with an emphasis on the culture and people of Campbell County.  It was opened in 1974 at the site of the historic natural rockpile, which has been a piece of Gillette history since the 1890s.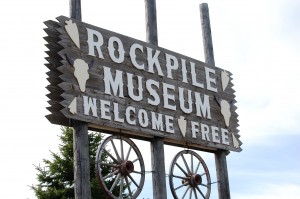 From Gillette I headed west towards Buffalo, Wyoming on I-90.   It was a beautiful day heading into the mountains of Wyoming.  There were some nice views and I also saw some antelope.
Buffalo, Wyoming is a nice small town in the foothills of the Bighorn Mountains.
The sculpture above is called "Cool Water" and was done by Buffalo artist D. Michael Thomas, who has been sculpting cowboy themed pieces for over 30 years.
Havre, Montana artist Lyndon Pomeroy did the unique bronze buffalo above.  I noted some of his work in Havre on a previous post.
The road from Buffalo, WY to Cody, WY has mountain majesties, wondrous wildflowers and amazing canyons.  Following is some of what I was able to see along US Route 16.
There are lots of wildflowers in bloom.  The yellow ones closeup look like this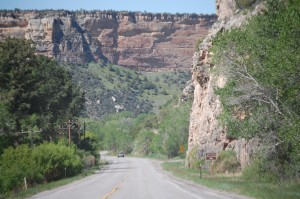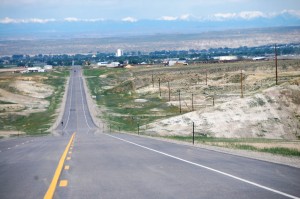 Worland, Wyoming is also home to the Washakie Museum which features exhibits that portrays the history of the Big Horn Basin.  It is also home to a giant Mammoth Bronze statue.  The statue is 25 feet tall and weighs 6000 pounds.  It is the work of Casper, Wyoming (and Sedona, AZ) artist Chris Navarro.
From Worland I headed north on US 20 towards Greybull and then west on US 14/16/20 towards Cody.  This provided some great scenes of the mountains of Yellowstone.
I eventually arrived in Cody, Wyoming by late morning.  Named after William "Buffalo Bill" Cody who was one of the founders of the town. There is plenty in town of you are a Buffalo Bill (and I don't mean football) fan!
The grizzly above is part of a Cody fundraising program called "The Grizzly Gathering", which was created to raise funds for their library.  Many towns are doing similar things.  We had the horses in Lexington ("Horse Mania") and I have seen buffaloes ("Buffalo Roam" project in West Yellowstone, WY), birds, etc., as I go through some towns.
The mural above is on the wall of Seidel's Saddlery in Cody.  It was painted by Colorado Austin Kuck.
Of course, like many older towns in the west, there is still plenty of neon….
Then, of course, there are the many Buffalo Bill items in town…
The Scout is a bronze statue of a mounted rider outside the Buffalo Bill Historical Center in Cody. It was placed in 1924 to commemorate the town's most famous resident, Buffalo Bill Cody. Originally in open land on the western outskirts of town, the statue today stands at the end of Sheridan Avenue. The project was initiated by Cody's niece, Mary Jester Allen, who had established the basis of what would become the Buffalo Bill Historical Center. A New Yorker, she persuaded heiress and artist Gertrude Vanderbilt Whitney to sculpt the piece.
The above bronze was done by Peter Fillerup of Heber, Utah.  It represents a younger Buffalo Bill as a Pony Express Rider.
From Cody I was next on my way to Yellowstone, continuing along the same highway.  As I got closer there were more spectacular views of the Rocky Mountains and other unique things as well.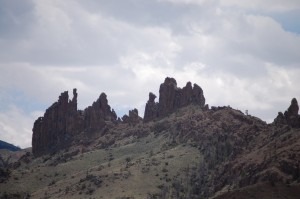 Then there is the famously unique Smith Mansion high up on a hill in Wapiti. This 40 year old structure was the brainchild of Wyoming artist Lee Smith. Smith spent his life, and eventually tragically ended it building this unique house for his family.  He fell to his death at the age of 48 in 1992.  The home is 5 stories tall, has numerous staircases and rooms and hidden entrances.  There is a great deal written about this odd place.  Unfortunately, I didn't have time to venture up there, but I did get a good shot from below.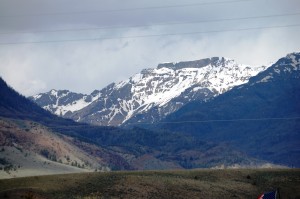 From Wapiti the road winds slowly into the East Gate of Yellowstone National Park.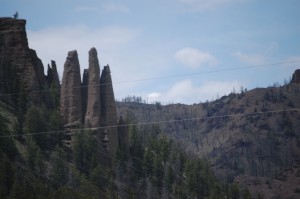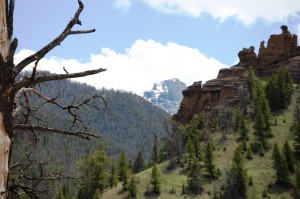 The last time I visited Yellowstone National Park was in 1973 while my family lived in Bozeman, Montana.  So, it has been about 40 years since then.  Much has changed, but much has remained the same (or at least appears to have – we all know that geology is also ever changing).
In the lower 48 states there are many magnificent National Parks including my personal Big Five of Yellowstone (WY), the Grand Canyon (AZ), Glacier National Park (MT), Zions National Park (UT) and Grand Teton National Park (WY).  There are many others ( I probably would have included Yosemite, but I have not been there yet).  Indeed, I may be known for my visiting offbeat and quirky sites, but don't let that fool you.  I am enamored by the amazing geographic and historical diversity of this country.  But, I  have only made it to 22 of the nation's 59 national parks thus far.  I dream of getting to Denali in Alaska and the North Cascades in Washington, along with Yosemite. (Here is a complete list of the National Parks)
Unfortunately, I did not have a lot of time on this trip, so I tried to hit the highlights I could on the Grand Loop Road through the park to West Yellowstone.  Here are a few scenes from the drive, some without any captions.
SCENES OF YELLOWSTONE NATIONAL PARK
Buffalo and Elk in Yellowstone Park
Of course, everyone knows that wild buffalo roam Yellowstone National Park, as elk as do deer, elk, moose, antelope, mountain goats, bears and more.  Unfortunately, all I saw were the buffalo (and almost hit one too!!).  I saw a couple of elk as well.  I heard from a few other tourists that they saw some bears hanging around the rivers, but I didn't see any.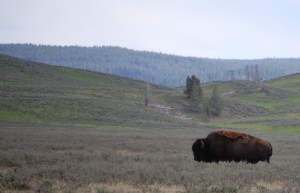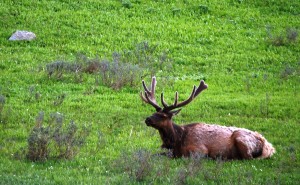 As I noted above, I almost ran into a HUGE buffalo while driving through the park.  I rounded a corner and there he was crossing into the road almost in front of me.  This guy was taller than my car and could care less about me rounding the corner. He just kept meandering across the road casually.
Alas, I eventually made my way to the road out towards West Yellowstone and into Montana.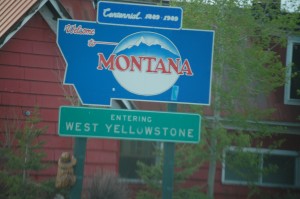 West Yellowstone still has some of the old motels from ages past.  Here are a few of the Ho-Hum Du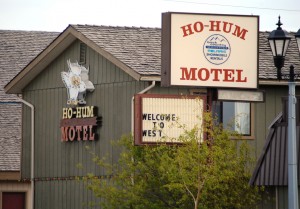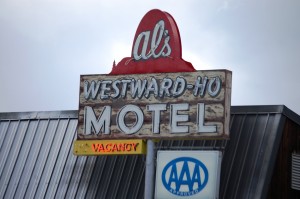 I finally made it into Rexburg late that evening…what a fantastic day this was!!
(2396)